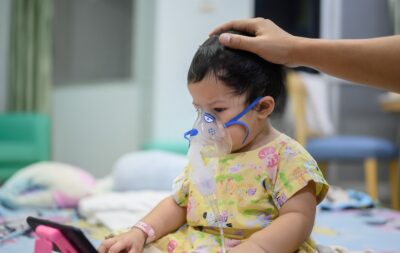 Here in metro Detroit, and across the country, cases of RSV are showing up earlier and with more frequency than usual this year. RSV is nothing new. It stands for Respiratory Syncytial Virus, and it's a common cause of typical cold-like symptoms. People who get infected with RSV get a runny nose, cough, and fever, and are contagious for three to eight days.
We are hearing about RSV in the news right now because the virus is showing up in our population earlier this year, there are more cases than usual, and some have produced more severe patient reactions, according to a recent article in AOL News. A November 3, 2022 story in Patch reports that they are seeing a "sharp increase in RSV cases within the last month."
"This surge of RSV is the worst that we've seen in 25 years," said Dr. Matthew Denenberg, chief and chair of Beaumont Children's at Corewell Health East (formerly Beaumont Health system) as reported in recently in Crain's Detroit. Crain's went on to report that Corewell East's eight hospitals have 90 pediatric beds and 12 intensive-care unit beds. All are full.
"If your child is having difficulty breathing, immediately go to your primary care physician's office or local emergency department right away. In severe cases, the patient will receive oxygen, breathing treatments, and steroids," said Lakes Urgent Care medical director, Dr. Al-Saadi. "For most children and adults, a case of RSV will result in nothing more than typical cold symptoms," said Dr. Al-Saadi. We offer an RSV test at our offices in West Bloomfield and Livonia. We can also provide a treatment plan to lessen the symptoms."
Respiratory Syncytial Virus is most dangerous with infants, older adults, and anyone who is prone to a severe lung infection. Babies and small children, who are most vulnerable to RSV were sheltered from virus during pandemic lockdowns and safety precautions are encountering RSV for the first time.
The best defense against RSV is to do all the things that always help you from getting sick. Wash your hands. Cough/sneeze into your shoulder. If you are feeling sick, stay home and avoid contact with small children. If you must be around others or small children, mask up. If you are the parent of a small child, pay extra attention to their surrounds and avoid putting them in contact with others who may be sick.