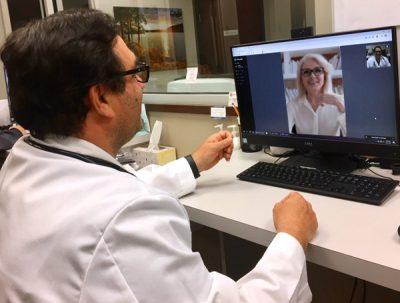 Remote work, Zoom meetings, and telemedicine are all here to stay. Here's how to know when a telemedicine call with your health care provider is appropriate and when it's not.
The COVID pandemic changed the way we work and communicate. And telemedicine, or telehealth, which enables video or phone appointments between a patient and their health care provider, is now an accepted and safe way for you to communicate with your doctor. A telemedicine visit can minimize the spread of infectious diseases by allowing the patient and provider to communicate remotely. But as described in an article from Harvard Health, it does have its limitations.
"Telemedicine can be a great tool, but only under very specific circumstances," said Lakes Urgent Care medical director, Dr. Haidar Al-Saadi. "Because of the services we provide and the treatments we offer at Lakes Urgent care, we're almost always going to want to see you in the office." If you'd like to set up a remote call with Lakes Urgent Care, contact us first to discuss your health concerns, and one of our providers will be able to determine if a call is appropriate."
Lakes Urgent Care now provides telemedicine appointments, but the best application of a this type of  appointment is as a follow-up to a previous in-person visit. It's also a great way to discuss a new concern with your primary care physician, who is already familiar with your health history.
Click here for more information about scheduling a telemedicine visit with a Lakes Urgent Care provider.