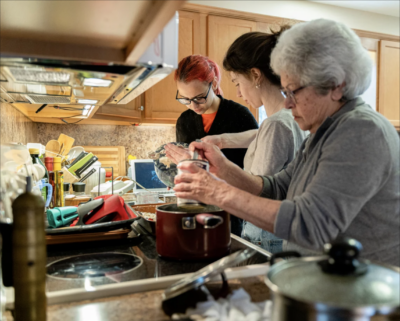 According to the American Red Cross, cooking is the number one cause of home fires. As the holiday season nears, the kitchen increasingly becomes the heart of the home, with family and friends gathering for meals and celebrations, and it's easy to get distracted and make a mistake resulting in a cut or burn.
"For serious burns in the kitchen, a good rule of thumb is if blisters develop, it is likely a second degree burn, and you should seek medical attention right away," said Lakes Urgent Care medical director, Dr. Haidar Al-Saadi. "For kitchen cuts, if the wound will not stop bleeding after a few minutes of applying direct pressure, it is likely that the wound will require more acute care and treatment. We can take care of minor burns and cuts easily and quickly, no appointment needed at either Lakes Urgent Care location in West Bloomfield or Livonia."
Whether you're a seasoned chef or a novice, these easy holiday kitchen safety tips from Lakes Urgent Care will keep you and your family safe this season:
Make the kitchen a kids-free zone during holiday gatherings: children and pets can easily get underfoot or distract you and cause accidents. Consider using pet gates or other means to create a boundary. At the very least, keep them away from the stove!
Don't wear loose clothing or sleeves that dangle while cooking – that baggy Thanksgiving sweater with the 3D sequined turkey isn't ideal when working around open flames.
You've got knives and open flames – maybe take it easy on the cocktails!
Install a smoke alarm in or near your kitchen, on each level of your home, near sleeping areas, and inside and outside bedrooms if you sleep with doors closed. Use the test button to check it each month. Replace all batteries at least once a year if your smoke alarm requires it.
Purchase a fire extinguisher and keep it in an easy-to-reach location in your kitchen.
If you are cooking anything on the stove top, never leave it unattended – stay in the kitchen. If you leave the kitchen for even a short period of time, turn off the stove top, or deputize a family member to keep watch for you.
If there's more than one person working the kitchen at one time, make sure to communicate clearly and be aware of your surroundings – always announce if you are walking behind someone, or if you're carrying a hot pan or sharp knife, to avoid collisions.
Keep anything that can catch fire – oven mitts, wooden utensils, paper or plastic bags, food packaging, towels or curtains – away from your stove, oven or any other appliance in the kitchen that generates heat.
Always check the kitchen before going to bed or leaving the home to make sure all stoves, ovens, and small appliances are turned off.
If you ignore all of our advice and end up with a cooking-related injury this season, know that both of our Lakes Urgent Care locations in West Bloomfield and Livonia are open seven days a week, including holidays! We are fully capable of treating your kitchen knife cuts and minor burns quickly and professionally.