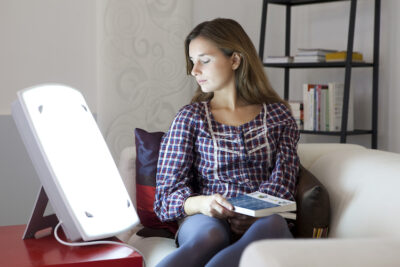 Seasonal Affective Disorder (SAD), is a type of depression that occurs during the cloudy fall and winter months.  If you think you might be suffering from SAD, Light therapy is a treatment option that might be right for you. This treatment involves exposure to bright, full-spectrum light, usually from a specialized light box, for a certain amount of time each day. The goal is to mimic the effects of natural sunlight and regulate your body's circadian rhythm.
The use of light therapy for SAD was first proposed in the 1980s, and since then, numerous studies have evaluated its effectiveness. The results have been promising, with many patients reporting improvement in their symptoms after just a few weeks of treatment. In fact, light therapy is now considered to be a first-line treatment for SAD by the American Psychiatric Association.
The reason why light therapy works is not fully understood, but it is believed to be related to the regulation of melatonin, a hormone that plays a role in regulating your body's sleep-wake cycle. In SAD patients, melatonin levels are often elevated during the day, leading to feelings of fatigue and depression. By exposing SAD patients to bright light, the therapy may help to reduce melatonin levels and improve mood.
Light therapy is typically administered using a light box, which is a device that emits bright light. The patient sits or works near the light box for a certain period of time each day, usually in the morning. The duration of treatment and the intensity of the light varies based on the severity of symptoms.
Light therapy should not be used as a substitute for other treatments such as counseling or medication. Always consult with a healthcare professional before starting any treatment, especially if you have a history of bipolar disorder or other psychiatric conditions. Side effects are generally mild, but can include headaches, eye strain, and nausea.
If you suffer from seasonal affective disorder (SAD) Light therapy can be an effective treatment option. Talk to your healthcare professional, or visit us at Lakes Urgent Care in West Bloomfield or Livonia, to see if it's right for you.