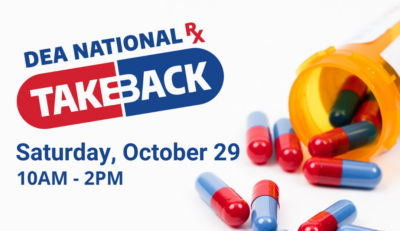 We've all done it: we don't use up a prescription or we leave a long-expired medication in the medicine cabinet. That's why the annual DEA Drug Take Back Day this Saturday from 10am-2pm is an excellent reminder and opportunity to go through your home and dispose of it all safely.
"Leaving medications unneeded or expired prescription drugs in your home is not safe," said Lakes Urgent Care Medical Director Dr. Haidar Al-Saadi. "Children are curious or think a medication looks like candy. Teens and adults may seek to use certain drugs, like opioids, for illegal or unintended purposes. Lakes Urgent Care supports the DEA Drug Take Back Day and encourages everyone to bring all expired medications to one of the safe drop off locations in our community."
Local police departments and other DEA sanctioned locations will safely collect and dispose of any unwanted medications. Farmington Hills and other area police departments have permanent and secure collection bins at the front desk area year-round, so if you can't make it this Saturday, you can likely find a place where you can safely dispose of unneeded prescription drugs.